Application Engineer / Research Scientist in Optical Microscopy, EMBL Heidelberg, Germany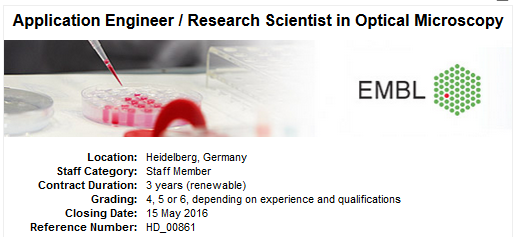 Job Description
The European Molecular Biology Laboratory (EMBL) is one of the highest ranked scientific research organisations in the world. The Headquarters Laboratory is located in Heidelberg (Germany), with additional sites in Grenoble (France), Hamburg (Germany), Hinxton (UK) and Monterotondo (Italy).
The Application Engineer / Research Scientist will join the Prevedel group. The goal of the lab is to develop next generation, innovative optical imaging techniques to push the frontier of deep tissue microscopy. The research is geared towards direct applications in biology and neuroscience. The major task of the Application Engineer / Research Scientist will be to support the group by contributing to its research projects and laboratory management. This involves:
Design of mechanical, optical as well as electronic components of cutting-edge, novel light microscopes to collect three-dimensional datasets inside scattering tissue.
Construction and adaptation of custom microscopy setups for specific life science applications and imaging conditions.
Programming and customizing computational data analysis packages including three-dimensional visualization of imaging data and analysis methods.
Improving image acquisition workflows (e.g. hardware automation, image post-processing and analysis) and ensuring a technology watch to keep the microscopes at a cutting edge level (at the hardware and software levels).
Working in close collaboration with biologists and neuroscientists to ensure practicality of the microscopes (e.g. custom sample mounts, sample environment control)
For additional information please visit the job offer page.