Euro-BioImaging Industry Board Coordinator and External Communication Officer position, EMBL Heidelberg, Germany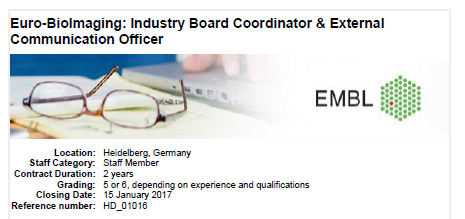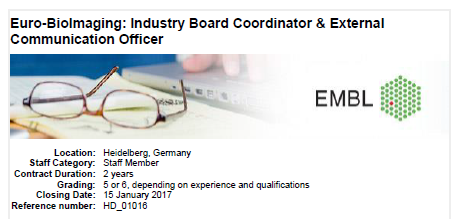 Job Description
The European Molecular Biology Laboratory (EMBL) is one of the highest ranked scientific research organisations in the world. The Headquarters Laboratory is located in Heidelberg (Germany), with additional sites in Grenoble (France), Hamburg (Germany), Hinxton (UK) and Monterotondo (Italy).
Euro-BioImaging (EuBI; www.eurobioimaging.eu), the European research infrastructure for imaging technologies in life sciences, is coming closer to its full operation. EuBI is broadly supported not only by the research community but also by 16 countries and EMBL, which are now finalizing the preparation work aiming at giving EuBI its own legal status as a European Research Infrastructure Consortium (EuBI-ERIC). The central mission of EuBI is to provide open user access, training and data management for a broad range of imaging technologies.
The EuBI Industry Board (EBIB) is a new platform for Bio-Imaging and Medical-Imaging companies, established with the aim to facilitate interaction between imaging industry and imaging users and providers linked to EuBI, and at the same time strengthen the standing of imaging industry in Europe. Such interaction can enable timely understanding of the users' needs, boost innovation in biomedical sciences and strengthen the position of companies, which can respond faster to new developments on the market.
We are seeking for one (full-time, preferred) or two (part-time 50%) candidate(s) to join the EuBI team at EMBL Heidelberg, for the position of EuBI Industry Board Coordinator & External Communication Officer.
Closing date: 15 January 2017
For additional information please check the job offer.