Centre for Cell Imaging workshop, 11 – 13 September 2017, University of Liverpool, UK
Dear colleagues,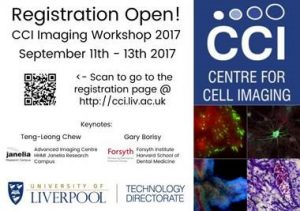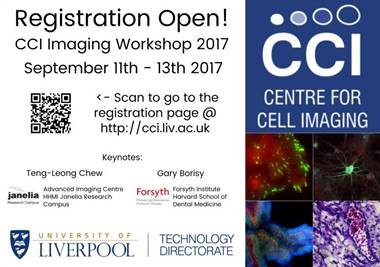 We would like to invite you to our 2017 Centre for Cell Imaging workshop, at the University of Liverpool, 11th – 13th September 2017.
Our aim is to provide existing and potential users of the facility with a better idea of the services we offer, tips and tricks about the best ways of conducting your microscopy experiments and some of the cutting edge science happening in the microscopy field.
This year we are pleased to have two special guest Keynotes from USA: Gary Borisy, member of the National Academy of Sciences and former President and Director of the Marine Biological Laboratory in Woods Hole, Massachusetts (https://forsyth.org/person/scientist/gary-borisy), and Teng-Leong Chew, Director for the Advanced Imaging Center at the HHMI Janelia Research Campus (https://www.janelia.org/people/teng-leong-chew)
The CCI workshop will be divided into two parts, first day (FREE of charge) followed by an optional two day comprehensive image analysis hands-on Fiji course (£50 charge) with Teng-Leong Chew.
Please use the link below for workshop programme and instruction for registration, limited places available:
http://cci.liv.ac.uk/2017_workshop.html
For more info: m.marcello@liv.ac.uk
Best wishes,
Center for Cell Imaging