NEUBIAS Bioimage Analysis Training School TS#6, for Early Career Investigators, 27-30 January 2018, Szeged, Hungary
Aim & Topics:
If your research requires use of image processing and analysis, or if you are responsible for support and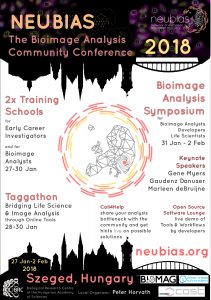 training of researchers and need a better understanding of techniques, then this school is for you!
Consequently, for this edition, we expect some previous experience on basic image processing using one toolbox such as ImageJ/FIJI, MatLab, Icy, CellProfiler or others.
The school will address:
The principles, techniques and ethics of digital image processing (DIP)
Building of practical workflows to analyse 2D, 3D & time-lapse bioimages
Different toolboxes
Workflow automation: scripting of workflows/pipelines
Extracting and validating quantitative numerical data from bioimages.
Sessions to solve your problem, code your workflow and explore different tools with help from Analyst
Dates/Location: Jan 27-30th (Sat-Tue), 2018. Szeged, Hungary.
Benefits: 4 days school + 3-days NEUBIAS Symposium included in the program for selected students.
Seats/participants: 25 students. >10 trainers.
Application: Open until November 9th, 2017.
Link and Application Form:
http://eubias.org/NEUBIAS/training-schools/eci/ts6-szeged2018/