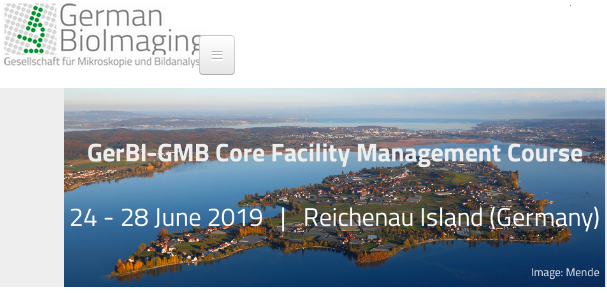 Registration is open to the GerBI-GMB Core Facility Management Course 2019, which will take place from 24 to 28 June 2019 in Konstanz – Reichenau Island (Germany).
http://www.gerbi-gmb.de/CFMC2019
This course is meant for scientists working or planning to work in a life science Core Facility. Application deadline is April 18, 2019. This course is highly subsidized for members of German BioImaging – Gesellschaft für Mikroskopie und Bildanalyse e.V. Places are allocated to eligible applicants on a "first come, first served" basis.
Participants of past courses rated their course as "excellent", and found that it was of highest relevance to their professional development. The participants stated e.g. that the course is "essential for current and future generations of imaging facility managers" and that they liked "the exchange with people who are in a similar position".