Microscopist / Project Manager, 50% part-time position, Microscopy and Image Analysis Platform Freiburg (MIAP), Germany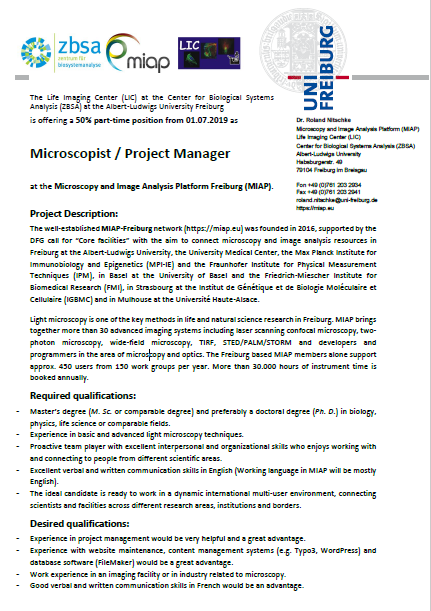 Project Description:
The well-established MIAP-Freiburg network (https://miap.eu) was founded in 2016, supported by the DFG call for "Core facilities" with the aim to connect microscopy and image analysis resources in Freiburg at the Albert-Ludwigs University, the University Medical Center, the Max Planck Institute for Immunobiology and Epigenetics (MPI-IE) and the Fraunhofer Institute for Physical Measurement Techniques (IPM), in Basel at the University of Basel and the Friedrich-Miescher Institute for Biomedical Research (FMI), in Strasbourg at the Institut de Génétique et de Biologie Moléculaire et Cellulaire (IGBMC) and in Mulhouse at the Université Haute-Alsace.
Light microscopy is one of the key methods in life and natural science research in Freiburg. MIAP brings together more than 30 advanced imaging systems including laser scanning confocal microscopy, two-photon microscopy, wide-field microscopy, TIRF, STED/PALM/STORM and developers and programmers in the area of microscopy and optics. The Freiburg based MIAP members alone support approx. 450 users from 150 work groups per year. More than 30.000 hours of instrument time is booked annually.
For additional information please check the job offer.
Application deadline 9 May 2019.