Technical assistant in the field of microscopy, University of Muenster, Germany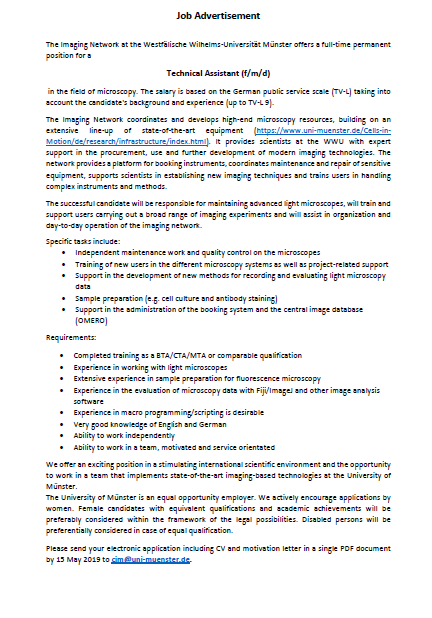 The Imaging Network at the Westfälische Wilhelms-Universität Münster offers a full-time permanent position for a
Technical Assistant (f/m/d)
in the field of microscopy. The salary is based on the German public service scale (TV-L) taking into account the candidate's background and experience (up to TV-L 9).
The Imaging Network coordinates and develops high-end microscopy resources, building on an extensive line-up of state-of-the-art equipment (https://www.uni-muenster.de/Cells-in-Motion/de/research/infrastructure/index.html). It provides scientists at the WWU with expert support in the procurement, use and further development of modern imaging technologies. The network provides a platform for booking instruments, coordinates maintenance and repair of sensitive equipment, supports scientists in establishing new imaging techniques and trains users in handling complex instruments and methods.
The successful candidate will be responsible for maintaining advanced light microscopes, will train and support users carrying out a broad range of imaging experiments and will assist in organization and day-to-day operation of the imaging network.
Specific tasks include:
Independent maintenance work and quality control on the microscopes
Training of new users in the different microscopy systems as well as project-related support
Support in the development of new methods for recording and evaluating light microscopy data
Sample preparation (e.g. cell culture and antibody staining)
Support in the administration of the booking system and the central image database (OMERO)
Closing date 15 May 2019.
For additional information please check the job offer